The Samsung Galaxy Note5, The Galaxy S6 edge+, and the latest Nexus leaks: weekly news round-up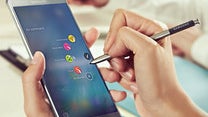 Once again, it is time for our weekly news round-up, where we put the most interesting stories from the past seven days for anyone who needs to catch up. The announcement of Samsung's latest high-ends was last week's hottest event. At a brief and straight-to-the point Unpacked press conference, the Galaxy Note5 and Galaxy S6 edge+ were made official. Both phones blend powerful hardware with exquisite design, but also come at a premium price, as is typical for a device of this class.
In other news, photos of the new Nexus phones were leaked again. And then again. And then again. In case you missed them, check out what the phones will probably look like. Yes, we said "phones" because we're expecting two Nexus handsets to be announced later this year – one with a 5.2-inch screen, and another carrying a larger, 5.7-inch display.
Another story you shouldn't have missed is the announcement of Qualcomm's latest chips – the Snapdragon 616, 412 and 212. But the company's next flagship silicon is what you should really be excited about. This will be the Snapdragon 820 and it will bring a significant boost in graphics performance. And it won't overheat, we hope.

For more of last week's read-worthy news, flip through the slideshow below.