The Samsung Exynos 8895 processor powering the Galaxy S8 might have up to three variants
9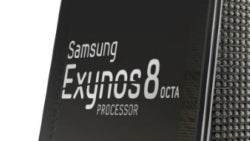 More details about the Exynos 8895 chipset which will be used in the upcoming Galaxy S8 have surfaced. A report coming from China says that the chipset is being built in two variants: the Exynos 8895M and the Exynos 8895V. Both will be made by Samsung on the company's 10nm FinFET process. They are said to feature octa-core processors which combine four Exynos M2 CPU cores (clocked at up to 2.5GHz) and four Cortex A53 CPU cores (clocked at up to 1.7GHz).
Additionally, Samsung will once again take advantage of ARM's GPU technology by using its latest design, the Mali-G71. It's a highly customizable product that will be present in different variations across the chipsets utilizing it. Thus, the Exynos 8895M will be using a 20-core variant, while the Exynos 8895V will make do with an 18-core configuration.
In line with today's high-end standards, both chipsets will support fast UFS 2.1 storage, LPDDR4 RAM, and integrated Cat. 16 LTE modems. In the second half of 2017, Samsung might introduce a third Exynos 8895 variant with an updated Shannon 359 modem that will be compatible with CDMA networks.
We'll learn more about the beast driving the Galaxy S8 in the months ahead. Samsung's flagship is expected to incorporate both the Exynos 8895 and the Qualcomm Snapdragon 835 in different parts of the world. The two cutting-edge chipsets will likely establish a performance parity, with one potentially being very slightly faster or more energy-efficient than the other. Both processors will be manufactured on Samsung's 10nm process.
ALSO READ
Recommended Stories