The Nokia N1 tablet, Gorilla Glass 4, and the Android 5.0 root status: weekly news round-up
3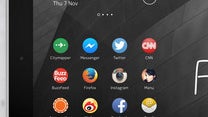 They say that good things come in small packages, and perhaps that's why compact-sized tablets are so appealing. Compact-sized tablets like the
Nokia N1
, which made headlines last week by becoming the first Android tablet to be marketed under the Nokia brand. It is good-looking, reasonably powerful, and positioned at a pretty tempting price point. On the downside, it will be launched in China first, and we have no clue if it is ever coming to the US.
In other news, Corning announced Gorilla Glass 4 – the fourth-generation of its tough glass material, which protects the screens of millions of phones. Naturally, the new variant is tougher than its predecessor, especially when it comes to protecting screens against cracks caused by accidental drops. Better yet we might see the new material in phones by the end of this quarter.
And for all of you Android fans out there, we're happy to report that the Nexus lineup can be rooted after receiving the Android 5.0 Lollipop update. Root is available even for "older" devices like the
Nexus 4
and the 2012-edition
Nexus 7
tablet. Thanks, Chainfire!
For more of last week's most interesting stories, check out the slideshow below.