The Microsoft Lumia 950 XL might get Surface Pen support after all
21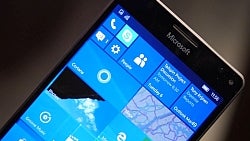 Although Microsoft has just recently announced the
Lumia 950
and the
Lumia 950 XL
, the extensive series of leaks and rumors that preceeded the official unveiling of the two Windows 10 Mobile flagships make us feel like the two handsets have already been around for months, and this despite the fact that the two phones have yet to hit the market.
While most of the rumored specs turned out to be accurate, some were disappointed to see Microsoft did not mention anything about a possible compatibility between the 5.7-inch Lumia 950 XL and the Surface Pen, as was previously rumored. If you were hoping to get some productivity work done on the phablet, you'll probably be glad to learn that not all hope is lost.
According to a Microsoft employee going by the name of Nawzil on Twitter, the Surface Pen will be compatible with the Microsoft Lumia 950 XL at some point in the future. Unfortunately, Nawzil did not specify a time frame, and we also are left wanting for more details about what can be done with the Surface Pen on the Lumia 950 XL.
Naturally, any phablet - especially high-end ones - that will get pen compatibility will be invariably compared to the Samsung Galaxy Note line-up. Now at its fifth iteration,
Samsung's S Pen
is not only very accurate and sensitive, but it's also deeply integrated with the software.
In closing, we'd like to mention that this is not an official Microsoft statement on the matter, despite the fact that Nawzil is a Microsoft employee. What do you guys think? Will you be more inclined to get the Microsoft Lumia 950 XL if the company brings compatibility with the Surface Pen?