Temple Run for Android gets update and big download numbers
5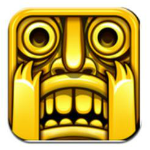 Temple Run has been something of a runaway hit (haha! puns!) for both iOS and now Android as well. The game is reporting some huge download numbers for Android and a new update which fixes some of the troubles that have plagued the Android version.
Possibly the most important part of the update is that the game now supports the DROID BIONIC and DROID RAZR, and Imangi Studios says it's working on more devices. Additionally, there are bug fixes for that odd random crashing that happened on some devices, as well as issues with the magnet boost, some spelling mistakes and the "Allergic to Gold" achievement. Not a bad set of fixes, and very impressive that those fixes have come just 3 days after the game was released.
Just as impressive as the developer's bug squashing ability is the success the game has seen. If you go to the Google Play Store to check out the game, you may notice that the game has already jumped into the "1,000,000 to 5,000,000" download bracket in just 3 days. Definitely impressive.