Telus caves, will sell BlackBerry KEYone to consumers
49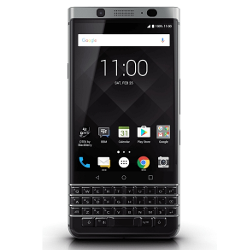 Yesterday, we told you that Steve Cistulli, President and GM of TCL Communication North America, had
confirmed heavy launch day demand
for the
BlackBerry KEYone
. It is that kind of demand for the device that has forced Canadian carrier Telus to make a 180 degree change, and offer the phone to consumers. Originally, Telus had planned to sell the KEYone to its business accounts only. Telus probably figured that only business users would be interested in the physical QWERTY that adorns the front of the handset.
But after word got out about the phone's long lasting battery life and ease of typing, non-business subscribers demanded that Telus give them the opportunity to buy what many have called the best BlackBerry in years. And after deliberating, the carrier made the decision to offer the KEYone to all of its subscribers.
We have to say that something interesting is going on here. When was the last time that you heard of a carrier (even one based in Canada, BlackBerry's home turf) get deluged with requests to carry a BlackBerry? It seems that the BlackBerry KEYone has touched a nerve. Yes, there are people out there who would rather own a tank-like handset with superior battery life than the latest super-thin handset with an edge-to-edge screen.
Telus says that it will soon disseminate information to its non enterprise customer base about pricing and availability of the BlackBerry KEYone. You might not be able to fight City Hall, but you can get a wireless operator to change its mind about carrying a phone.
source:
CrackBerry