Take a trip through the history of mobile productivity with this infographic
6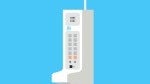 You don't knowwhere you're going, but you know where you've been, and that generalstatement applies to cellphones as well.
That is why we arepresenting you with
this cool infographic
created by the guys andgals at
CompanionLink
, thanks to which we can take a quick yetfascinating journey through the
history of mobile productivity
andsee how the big ball started rolling.
We will not spoilthe fun of going through the entire infographic yourselves, but wewill point out some of the interesting facts that it mentions.

We aredealing with not only information that every self-respectingsmartphone freak should know, but there are also plenty of triviathat one can use to impress their nerdy friends.
For example, do youknow which one was the first phone to come with a camera, albeit of aprimitive kind?

Or how about the first handset to feature a colordisplay – something that we take for granted nowadays? What aboutthe first device worthy of calling itself a smartphone?
The answers tothese questions, among a number of other cool facts, are all in theinfographic to the right. Feel free to check it out and see how muchcellphones and mobile productivity have evolved in a matter of only afew short decades.
source:
CompanionLink Software
via
Android Central Forums