T-Mobile to shut down Metro PCS' CDMA network in Las Vegas and New England
4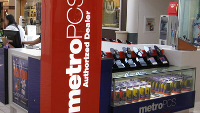 When T-Mobile bought MetroPCs last year, the game plan was for MetroPCS customers to migrate to the T-Mobile network. Eventually, T-Mobile would shut down the MetroPCS pipeline and refarm the spectrum to build out its more advanced LTE pipeline. That process has actually started taking place ahead of schedule, and on Friday it was announced that T-Mobile would be turning off MetroPCS' CDMA network in Las Vegas and in the New England area on July 1st.
T-Mobile is reminding MetroPCS customers in those regions to update to a new phone before June 30th. This new handset needs to support T-Mobile's HSPA+/LTE 4G service. The good news is that T-Mobile will provide discounts on these phones to those who need to switch. You can always saunter into your local MetroPCSstore and see if you are eligible for a discount.
If you're a MetroPCS customer in the New England or Las Vegas area, you can trade in your
LG Connect
for a $99 credit allowing you to score an
LG Optimus F6
for free. Those with the
LG Motion
will get a $49 instant credit, allowing them to grab for free, the LG Exhibit. And if you're totin' the
Huawei Verge
or the
Samsung Admire
, you can trade either for the
Samsung Freeform M
or the
Huawei Valiant
at no cost.
July 1st will be here before you know it, so if you are affected by the closing of the MetroPCS CDMA pipeline in your area, you might want to grab your new phone now.
source:
MetroPCS
via
Phonescoop