T-Mobile stores receiving Nexus One accessories - phone down the road?
This article contains unofficial information.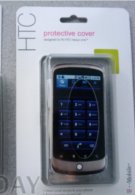 The HTC EVO 4G might be getting the most face time among people right now, but that's not stopping the Nexus One from bringing the spotlight back to itself. Since its launch, consumers interested in the Nexus One were exposed to a new sales operating process that was quite different from the usual mobile phone shopping experience people tend to be comfortable with. From the looks of it, Nexus One accessories have begun to infiltrate T-Mobile stores across the country which could raise some flags that the device could come next. In addition, these accessories are being rebranded to the HTC Nexus One as opposed to the Google Nexus One – which could point to a new device name if it will indeed be offered in stores. When you look at the numbers the HTC HD2 has managed to accomplish in its short time, one would clearly see some advantages of making the device available to customers who prefer purchasing their device through a store. Not only would the Nexus One get some face time among a new class of customers who particularly don't shop online, but it could also spur some additional sales.
HTC Nexus One Specifications
|
Review
source:
TmoToday