T-Mobile rumored to give away the LG Leon LTE for free to prepaid customers
3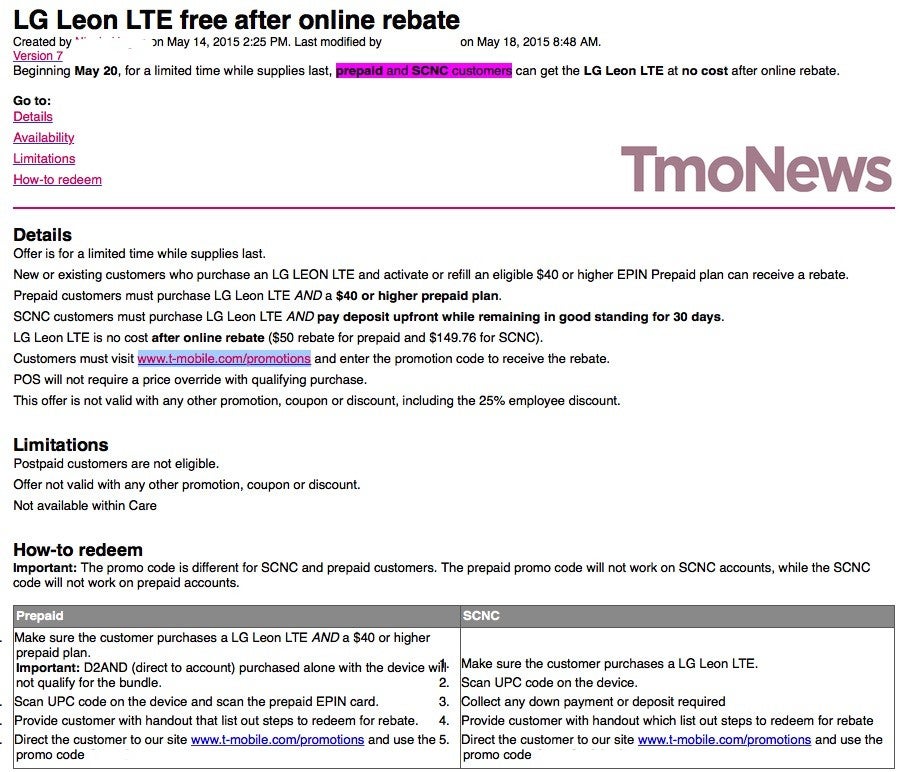 The alleged leaked T-Mobile memo
Most carriers sell most of their smartphones by offering them at a discounted price as long as customers enter a two-year service agreement. T-Mobile has already broken free from this rule by allowing its postpaid subscribers to pay for smartphones in 24 monthly fees through the Equipment Installment Plan (EIP), but it looks like the Magenta carrier's next move will push things even further.
According to a leaked T-Mobile memo, the carrier is preparing to give away the entry-level LG Leon LTE smartphone for free to its prepaid customers.
A previous leak suggested that T-Mobile will
launch the LG Leon LTE tomorrow
, on May 20th, which is also when the leaked memo says that the carrier will start its promotion. The smartphone is currently listed as "Coming Soon" on the carrier's website.
The leaked memo reads that T-Mobile will give the LG Leon for free to any customer who signs up for a prepaid plan that costs at least $40 per month. T-Mobile customers on the Simple Choice No Credit Plan are also qualify for the offer.
From the looks of it, customers will still have to pay for the smartphone at first, but T-Mobile is said to reimburse the initial payment in a month's time. The LG Leon LTE will be available at $50 for prepaid customers and at $149.76 for Simple Choice No Credit Plan customers.
The LG Leon is an entry-level Android smartphone that comes with specs such as a 4.5-inch display running at a resolution of 480 by 854 pixels, a Qualcomm Snapdragon 400 chipset paired with 1GB of RAM, and 1,900mAh battery. The LG Leon LTE runs Android 5.0 Lollipop out of the box.