T-Mobile finally admits to the existence of the myTouch 3G 1.2
This article contains unofficial information.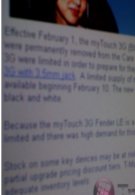 For something considered as a slight upgrade to an existing model, T-Mobile has finally come out to confirm the existence of the myTouch 3G 1.2. It wasn't too long ago when we
heard about the black version
of the original going out of stock on T-Mobile's web site – it seems like inventory levels of the black version were limited and anticipating for the rollout of the myTouch 3G "refresh". One of the other variants, the myTouch 3G Fender Limited Edition is doing well when it comes to sales; it's currently sold out because of "high demand" and limited quantity. The refreshed version will include the obvious 3.5mm headset jack and may have more in common with the Fender Edition. The best part of it, from what TmoNews's tipster reports, is that it will also include 256MB of RAM – the same as the Fender Limited Edition.
source:
TmoNews