Time is ticking for the original myTouch 3G with accessories for v1.2 rolling out
This article contains unofficial information.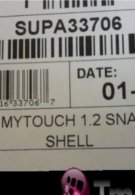 The original T-Mobile myTouch 3G had a good run and appears to be close to the end of its shelf life – paving the way for version 1.2. We've already seen the 3.5mm headset jack trotting myTouch 3G Fender Limited Edition, but accessories that are rolling in may point to an eventual release. It's always out with the old and in with the new – which makes sense from a business perspective. The release of version 1.2 of the myTouch 3G is made more evident with the black version of the original suddenly appearing on T-Mobile's web site as being sold out. Everything seems to point to a February 10 date for the launch and time is only ticking away before last generation handsets are made available – its best to scoop up yours now if you've been waiting this long.
source:
TmoNews