T-Mobile debuts Family Time Unlimited plan
11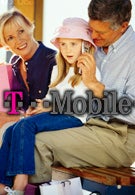 T-Mobile rolled out a new unlimited family plan today, a move that will likely spark more change in the industry. Starting at $149.98 users get two lines of unlimited talk, text, picture, video and instant messaging. Up to three additional lines can be added for $49.99 each. It's not exactly a cheap solution, but if your family really needs it can be a money saver.
Currently
Sprint
and
Verizon
both have unlimited family plans as well, but they offer nowhere near the discount this T-Mobile plan does. Verizon users on the Select and Premium plans can add a second line for $10 less than the normal price, and each line after that is just $99.99. For Sprint, additional Simply Everything plans can be added at a incremental $5/line discount (line 1 is $99.99, 2 is $94.99, line 3 is $89.99...) though their plans offer unlimited everything, including GPS, data and TV as well. Sprint is also rumored to be bringing out new Talk/Message/Data Share Plans on June 15, a move that was referenced in fine print of the
Instinct movie trailer
, but those may or may not be unlimited. Game on, boys!
source:
T-Mobile