Because of T-Mobile and Verizon, the iPhone 11 supports an LTE band record
2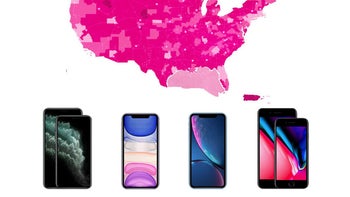 The
iPhone 11
, the Pro, and the
11 Pro Max
are again landing with three different model numbers depending on the carrier band support. There is a dedicated version for North America, a separate one with dual-SIM slots for China, and an international model for, well, globally.
After all, the North American A2161 version has to support the exclusive FirstNet band for government employees and emergencey services, AT&T's band 14, as well as T-Mobile's vaunted band 71, the long-range 600MHz.
Add to these Verizon's new CBRS bands meant for offloading some traffic in crowded areas like airports or downtown, and the US model supports a record for of no less than 28 LTE bands, with 40 frequencies in total, against 26 LTE bands for their predecessors.
The international type of the three new iPhones includes band 28 that is all the rage in places like Europe, and it has even more - 30 LTE bands - so Apple has you covered in terms of coverage, whichever region you happen to be in.
Apple has achieved this feat by fine-tuning Intel's newest XMM 7660 modem (there was no time to plan for anything Qualcomm after the lawsuit was settled) that is a tad slower than the Snapdragon X24 one that is in most Android flagships in the US - Cat. 19 and 1.6 Gbps versus Cat.20 and 2 Gbps.
Here are all the models and bands that the
iPhone 11
, 11 Pro, and the 11 Pro Max are equipped with.