T-Mobile USA leaked roadmap shows info on HTC Touch Pro2, BlackBerry Gemini and more
This article contains unofficial information.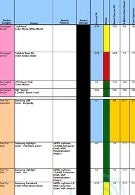 A picture is worth 1,000 words and while we might not hit that number, there is plenty to write about a newly leaked road map for T-Mobile USA. As we
reported
earlier, the carrier has apparently decided on the name "myTouch 3G" for their new Android handset, and while the map shows 8/5 as the date that the device will be on sale at stores and online, T-Mobile earlier last week put out the word that the G1 sequel would be out in "early summer" which we
passed along
to you earlier this week. Considering that early August is the time when retailers start "Back to School" sales and most thoughts turn to the end of the summer, we probably should see this phone available before the date stated.
The HTC Touch Pro2 and its beautiful 3.6 inch display is due to be available at the store and online on July 22nd, according to the road map. The smartphone will replace the Wing and is expected to be called the Rhodium. The device will be offered in a mocha tone only. Speaking of HTC devices, the nation's fourth largest carrier will have its version of the Snap, the Dash 3G, ready for sale on 7/1 although retail partners like Best Buy will be offering the model on 6/26.
The BlackBerry Gemini and its optical trackball has no release date in the road map, but it does show a 6/22 date for manufacturing approval. The Gemini 8520 is expected to be equipped with Wi-Fi although 3G connectivity will not be part of this handset. As we
previously reported
, the 8520 could be powered by a BlackBerry OS build beginning with the number 5. The optical trackball shgould be able to save your navigation fingers from wear and tear.
Some of the feature phones listed on the road map included the Sony Ericsson CS8, with its 8.1MP camera, expected out on 8/20. And myFaves 2.0 will be one of the features of the Samsung t559 Comeback. The phone will be offered in 5 different colors, support 3G connectivity, and be released on 7/15.
If the carrier follows the map, it looks like there will be some exciting times and difficult choices ahead for T-Mobile USA customers.
BlackBerry Gemini Preliminary Specifications
T-Mobile G2 Preliminary Specifications
HTC Touch Pro2 Preliminary Specifications
Sony Ericsson CS8 Specifications
source:
EngadgetMobile