BlackBerry Gemini 8520 features new optical trackball for navigation
This article contains unofficial information.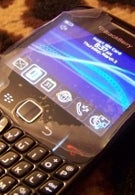 Remember in March when we
showed you
the picture of the BlackBerry Gemini 8325 with a hole where it's trackball should have been? Since then, some radical things have taken place to the Gemini. First of all, the model has a new number which is 8520. And the biggest change is right in that space where the trackball is missing; instead of a mechanical trackball that rolls with the touch of your finger, RIM has apparently placed an optical trackball on the device. While both styles of trackball have the same goal, which is to move a cursor on the screen to a specific position, the newer one has no moving parts, no ball to wear down, and instead it "reads" your gesture to determine where you want the cursor placed.
You can expect the model to come equipped with a 2MP camera with flash, a display with 320x240 pixels, n-class Wi-Fi, an absence of 3G connectivity and the possibility of the handset being powered by BlackBerry OS 5.0. The new trackball would make the Gemini the second 'Berry to offer a way of navigating without a rolling ball. Do you think that the new navigation method will be better?
BlackBerry Gemini 8325 Specifications
source:
CrackBerry