With the OnePlus 7T launching next month, T-Mobile discontinues the OnePlus 7 Pro
16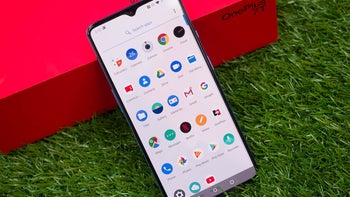 Before the announcement of the brand new
OnePlus 7T
, T-Mobile was selling two OnePlus smartphones:
OnePlus 7 Pro
and
OnePlus 6T
. Now, however, the OnePlus 7 Pro can no longer be bought from
T-Mobile's website
, and neither via the official T-Mobile app. We've contacted T-Mobile support and they've confirmed that the carrier "no longer has" the 7 Pro. We have yet to hear about the reason behind this.
It's interesting to see the OnePlus 7 Pro being discontinued by T-Mobile. Firstly because this is not an old device (it went on sale in May), and secondly because there are still more than two weeks before the newer 7T arrives at T-Mobile. Plus, the 7T is not a direct successor to the 7 Pro (this would the One Plus 7T Pro, which hasn't been announced yet), so it's not supposed to replace it.
When the OnePlus 7T goes on sale at T-Mobile next month, on October 18, it will cost less than the 7 Pro. More exactly, while the OnePlus 7 Pro was sold by T-Mobile for $699, the 7T will be priced at $599. Meanwhile, T-Mobile continues to sell the rather old OnePlus 6T (first released in November 2018), asking $500 for it.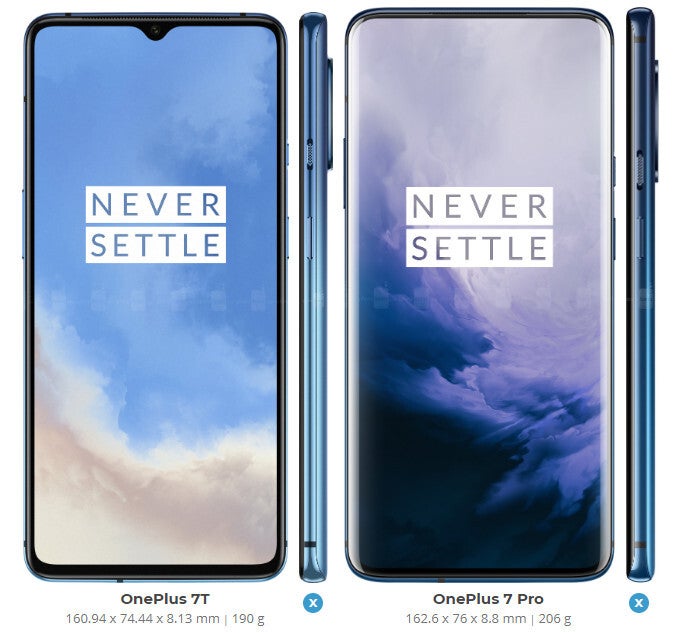 The OnePlus 7T is cheaper than the 7 Pro because it's got a slightly smaller, lower-resolution display, and a less futuristic design. Moreover, the 7T that T-Mobile is getting ready to launch will have 128 GB of storage space (half the storage space of T-Mobile's 7 Pro). On the other hand, the OnePlus 7T comes with a newer and more powerful processor - Snapdragon 855 Plus vs. Snapdragon 855. You can see a full specs comparison between the two phones below. Do note that the OnePlus 7 Pro specs sheet mentions 6 GB of RAM and 128 GB of storage space because that's the base configuration of the unlocked model. T-Mobile only sold a model with 8 GB of RAM and 256 GB of internal memory.
P.S.: If you want to buy the OnePlus 7 Pro in the US, the
OnePlus website
is still selling it unlocked.
HDR support, Scratch-resistant glass, Ambient light sensor, Proximity sensor
HDR support, Scratch-resistant glass, Ambient light sensor, Proximity sensor
Qualcomm Snapdragon 855 (7 nm)
Qualcomm Snapdragon 855+ SM8150-AC (7 nm)
Octa-core, 2840 MHz, Kryo 485, 64-bit
Octa-core, 2960 MHz, Kryo 485, 64-bit
128GB, not expandable
128GB, not expandable
Android (10, 9.0 Pie), OxygenOS UI
Android (11, 10), OxygenOS UI
OnePlus Warp Charge
OnePlus Warp Charge
34.00 hours
the

average

is 17 h (996 min)
15.0 days (360 hours)
the

average

is 20 days (472 h)
Triple camera
Triple camera
48 MP (OIS, Laser and PDAF)
Aperture size: F1.6; Sensor size: 1/2"; Pixel size: 0.8 μm
Aperture size: F1.6; Focal length: 26 mm; Sensor size: 1/2"; Pixel size: 0.8 μm
8 MP (Telephoto, OIS)
12 MP (Telephoto, PDAF)
Optical zoom: 3.0x; Aperture size: F2.4; Pixel size: 1 μm
Optical zoom: 2.0x; Aperture size: F2.2; Focal Length: 51 mm; Pixel size: 1 μm
16 MP (Ultra-wide)
16 MP (Ultra-wide, Autofocus)
Aperture size: F2.2; Focal Length: 17 mm
Aperture size: F2.2; Focal Length: 17 mm
3840x2160 (4K UHD) (60 fps), 1920x1080 (Full HD) (240 fps), 1280x720 (HD) (480 fps)
3840x2160 (4K UHD) (60 fps), 1920x1080 (Full HD) (240 fps), 1280x720 (HD) (960 fps)
Time-lapse video, Continuous autofocus, EIS
HDR, Time-lapse video, EIS
16 MP
16 MP
1920x1080 (Full HD) (30 fps)
1920x1080 (Full HD) (30 fps)
6.40 x 2.99 x 0.35 inches (162.6 x 76 x 8.8 mm)
6.34 x 2.93 x 0.32 inches (160.94 x 74.44 x 8.13 mm)
7.27 oz (206.0 g)
the

average

is 6.5 oz (184 g)
6.70 oz (190.0 g)
the

average

is 6.5 oz (184 g)
Back: Glass (Corning Gorilla Glass 5); Frame: Metal
Back: Glass (Corning Gorilla Glass 5); Frame: Aluminum
2D Face unlock, In-screen fingerprint
2D Face unlock, In-screen fingerprint