T-Mobile will give you a free Motorola Moto E6 if you add a new line of service
2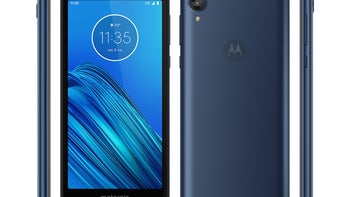 First released in the US in July via Verizon Wireless, the
Motorola Moto E6
is a new smartphone made for users on a budget. As of this week, the Moto E6 can be bought from T-Mobile, which is selling it for $150 outright. In certain conditions, though, T-Mobile lets you get this Motorola phone for free.
The Motorola Moto E6 is free at T-Mobile only if you buy it on a monthly payment plan ($6.25 per month for 24 months) and add a new line of service. After 24 months, you'll receive a total of $150 back via monthly bill credits.
T-Mobile's Moto E6 (pictured above) isn't different from the E6 that's available at Verizon. This means it's got a not-too-modern design, but at least its specs aren't too terrible. The handset runs Android 9 Pie, sports a 5.5-inch display with 720 x 1440 pixels, and is powered by an octa-core Qualcomm Snapdragon 435 processor. Other features include splash resistance, a 13 MP rear camera, 16 GB of expandable storage space, and a 3000 mAh battery (according to Motorola, this battery should last "more than a day" on a single charge).
While the Moto E6 is not bad for a phone that can be had for free, T-Mobile has a few other handsets that are offered at no cost when you add a new line. Included here is the
Motorola Moto G7 Power
, which is superior to the E6 in pretty much every regard, so it's obviously a better choice.
The Motorola Moto E6 is also free
at Metro by T-Mobile
(T-Mobile's prepaid brand). However, in this case, you can get the smartphone for $0 only if you switch from another carrier.