T-Mobile MVNO GoSmart may expand service nationwide in February
4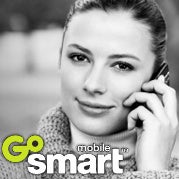 T-Mobile subsidiary GoSmart has been around for less than a couple of months, but it seems to be off to a good start. According go sources familiar with the matter, the service has been met with strong demand in markets, across which it is currently being tested, which is why the MVNO is to expand nationwide in February of this year.
The news is far from confirmed at this time, but if all turns out to be true, alternative prepaid services from other carriers will be in for some competition. GoSmart will go against offerings from Virgin and Boost Mobile, both of which are operated by Sprint and offer reasonably priced monthly plans with data and plenty of minutes included. But GoSmart has its service priced quite competitively as well: for $45 per month, a subscriber gets unlimited nationwide talk, text messages, and 5GB of high-speed (read 3G) data, which gets throttled down to 2G speeds once that mark is reached. There's a nearly identical monthly offering priced at $35, but with data connectivity limited to 2G speeds. All of GoSmart's services are run over T-Mobile's wireless network.
Currently, GoSmart does not offer any smartphones for sale. Instead, customers are free to bring their own unlocked GSM phone and pop in a GoSmart SIM card, priced at $8. Alternatively, the MVNO is offering a feature phone – the Alcatel OT 838, which costs $50 after rebate and features a portrait-style QWERTY keyboard, dedicated Facebook button, and Wi-Fi connectivity.
T-Mobile has yet to comment on any of the rumors regarding the GoSmart expansion nationwide, but if that's bound to happen, an official confirmation might not be far off.