T-Mobile says its 5G network now covers 30 cities, but commercial services are unavailable yet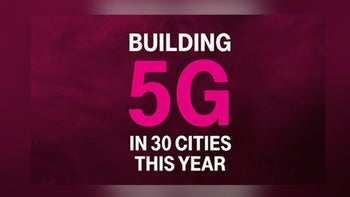 T-Mobile started to talk about its 5G network since last year and said services will available once the first compatible smartphones will be launched on the market in 30 cities in the United States. True to its promise, T-Mobile confirmed to
Light Reading
that its 5G network already covers those 30 cities.
Although commercial services are not yet available since there are no 5G smartphones available yet, if you live in one of the 30 cities where T-Mobile has
5G network coverage
, you'll most certainly benefit from them at some point this year.
While T-Mobile may have fulfilled what was promised last year, it's unclear whether its cell sites will cover these cities in their entirety or just parts of them. For the time being, we know T-Mobile's 5G network will be available in New York, Los Angeles, Las Vega, and Dallas.
T-Mobile
casually confirmed last month
it will carry Samsung's 5G smartphone, but that might not be the only device support the new standard coming to T-Mobile.
Also, T-Mobile
announced last week
that it had completed 5G video and data calls over its low-frequency 600MHz spectrum, another sign that the carrier is almost ready to offer 5G services to consumers when the first compatible smartphones arrive.