Surgeon Simulator now out for Android
22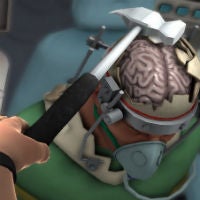 As you may have noticed, there is a bit of a trend in gaming with absurd and intentionally awful "simulator" games. Goat Simulator, which we just learned is coming to iOS and Android, lets you be a goat and do decidedly un-goat-like things. Similarly, Surgeon Simulator lets you mangle patients to your heart's content, and now you can get the game on Android.
The charm of Surgeon Simulator is in the fact that the controls are intentionally difficult, which can lead to some fun times attempting to perform various surgeries, like heart transplants or brain surgery, with tools ranging from scissors to a hammer. The animations are gruesome and absurd, and you will likely kill patient Bob quite a few times throughout your experience.
Surgeon Simulator is available now on Android tablets running version 4.0 (Ice Cream Sandwich) or higher. It will cost you $5.99, but the good news there is that there are no in-app purchases to worry about.