SuperTooth Melody hands-on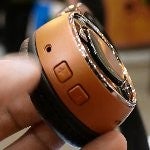 We've checked out quite a
few stuff from SuperTooth in the past
, but at their CTIA booth, we had the opportunity of checking out one of SuperTooth's latest Bluetooth gadgets. For those big into listening to music on the go, the
SuperTooth Melody
aims to chime in with some robust tones to make the hands-free experience such a joy to the ears.
For
$100
, the SuperTooth Melody is a pretty neat and
ultra-compact Bluetooth headphone
that comfortably sits over our ears thanks to the cushion surrounding its speakers. Even better, it's available in a palette of colors (blue, green, orange, grey, black, and purple) that can perfectly accentuate your unique style. Thankfully, this foldable and adjustable design is pretty
solid
with its construction – while still employing some
quality materials
to make its $100 cost justifiable.
On one side, there are physical controls for play/pause/stop/previous track/next track – so there's no way of accidentally pressing something. Additionally, the SuperTooth Melody features a rechargeable lithium-ion battery that's rated to provide
7.5 hours of music playback
on a single charge. Above all, it's nice that this doubles as a Bluetooth headset as well, so you can seamlessly talk/chat with friends one moment, and simply transition to a smooth melody of songs. For those interested in scoping out the SuperTooth Melody, it's going to be available shortly through SuperTooth's web site sometime this month.