Still thinking about the Samsung Galaxy Note 3? Samsung videos show off the "smart move" and more
21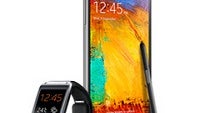 Samsung's current flagship, the
Galaxy Note 3
is still in a class of its own even if it is not the big boy on the block any more. With class leading hardware under the hood, Samsung's competent user experience enhanced by the S-pen functionality, the Note 3 is an almost perfect execution.
Such fancy goodies also means the Note 3 comes with a fancy price tag, a full $300 on contract with the major US carriers, and a pretty penny (or pence) elsewhere around the world. What you get for the money though are features that go beyond most other smartphones.
In case you are still not sure, over the past week, Samsung started dropping some videos under a new #SMARTMOVE campaign. The third episode just posted today so we thought we would share what Samsung has been brewing so far.
One area where that larger screen excels is with multi-tasking, and that gets shown off quite well in the third episode. Galaxy Gear makes an appearance as well. The first thing Samsung lays out is basically, "yes," you might need to adjust to a larger screen, but once you do, the Note 3 will be your go-to gadget for just about everything.
If you have been on the fence about picking one up, check out the videos below and then check out
our review of the Samsung Galaxy Note 3
. That should give you all you need to decide if it is worth the investment for yourself, or even as a gift since 'tis the season to be giving.
source:
Samsung
(YouTube)