Still no sighting of ICS with the latest update for T-Mobile's Galaxy S II - it's mainly bug fixes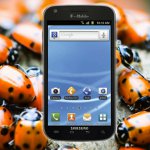 And so continues the wait for
T-Mobile Samsung Galaxy S II
owners out there, who are no doubt starving
waiting for the arrival of Ice Cream Sandwich
. Then again, none of the US sold versions of the Samsung Galaxy S II have seen their official ICS updates just yet.
Instead, the latest
32.3MB sized software update
for T-Mobile's Galaxy S II is none other than a
maintenance update
. Bumping up its software to
version T989UVLDE
, it mainly consists of the usual set of
bug fixes
we're normally accustomed to seeing with most new software updates.
rolled out to devices through June 22nd
, which really makes you wonder even more when we'll see another one for Ice Cream Sandwich. Does it mean that we won't see it until afterwards? Well, it's possible, but at this point in the game, owners are surely itching to see it arrive – so either way, we'll have to continue playing this waiting game.
If you haven't seen that notification popping up on your handset, you can obviously push the process by checking for it manually. So what exactly is included with this maintenance update? It features a fix for random reboot/power off problems, device stability improvements, a Qualcomm chip patch, and Google Security fixes.
source:
T-Mobile
via
TmoNews