Still miffed about Instagram despite their policy correction? Check these apps out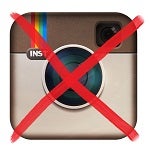 We know that Instagram had a lot of folks all bent over new terms-of-service announced a couple days ago. Whether too much was read into the new policy or not, a lot of people have decided to part ways with the app. How many? We do not know, nor do we expect Facebook to answer before their next earnings call. Perhaps you have given some thought bowing out of Instagram too, but have not poked around the app store to see what is available.
As you might expect, a number of Insatgram's competitors are reaping the benefits of whatever the size of the exodus is. Some applications have gone from "zero to hero" in a day. Bear in mind, this list is nowhere near complete, we are talking about apps available in iTunes, which means there are plenty of options. However, these services stand on their own two feet. Check out these possible alternatives, you might just find something cool and possibly better.
Instagram's Terms of Service
The New York Times