Steve Jobs becomes the mythical 'Fifth Beatle" in funny video
1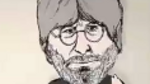 The title of the "Fifth Beatle" has been thrown around quite often since the Fab Four became international stars in 1964. The title can be honestly placed upon a few people who had a major influence on the Beatles throughout their career. Stu Sutcliffe was the band's bass player before Paul McCartney. He died tragically from a stroke soon after leaving the group. There is producer George Martin, whose job of taking sounds from the heads of four guys who couldn't read music and translating it into what the guys wanted was a major reason for their success.
Other candidates for the title include pre-Ringo drummer Pete Best, manager Brian Epstein, New York DJ Murray the K and Apple CEO Steve Jobs. Ok, maybe we are just kidding about that last one, but it is known that Jobs is a huge fan of the Beatles and he must have relished the opportunity to stand in the group's spotlight when both parties agreed on the terms that allow the Beatle's music to come to iTunes.
Check out the video below if you need a little humor to pick you up. Beatle fans will notice that the song being played is a combination of different Beatle songs including some of the band's signature sounds..
source: BBC via
ElectricPig