Stephen Elop bestowed on the 2013 European Communication Award
36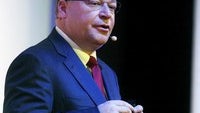 Nokia's current CEO, Stephen Elop, is the first non-Finnish person to be leading the company. He was born in Canada on New Year's Eve, 1963, graduated computer engineering and management in Ontario and has 5 kids, 3 of which are triplets. On September 21, 2010 he took over the Nokia Corporation and this year, the European Association of Communication Directors (EACD) has awarded him with their prestigious award, yet another thing for the Canadian to add to his list of interesting facts about his life.
The bestowing of the prize was held at a gala ceremony at the European Communication Summit. The award itself honors superb achievements and is given to the person (or organization), whose communication efforts during the past year have been top-notch.
"Stephen Elop took on Nokia's CEO position in December 2010, replacing Olli-Pekka Kallasvuo and becoming the first non-Finnish director in Nokia's history. Stephen is recognized for his direct and transparent communication style, as evinced by his by-now famous "Burning Platform" memo. Stephen received the award in recognition of his unique communication style and commitment to which always puts his employees and customers opinions first"
- EACD on Stephen Elop
Previous winners of the award include Marc Bolland, CEO of Marks and Spencer (2012), Peter Löscher, CEO of Siemens (2011), and Sergio Marchionne, CEO of Fiat (2010).
source:
EACD-online
via
WMPoweruser