SteelSeries announces the 7H performance headphones for iPod, iPhone, and iPad
2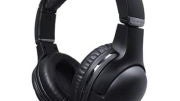 If you're any sort of serious gamer or
audiophile
, then you know how important your headphones can be. And that's why we love SteelSeries. Their headphones, and other peripherals, are known for their pedigree of MLG victories and unrivaled quality. Now, they've announced the new 7H headset, that is compatible with your iOS device.
The 7H features removable ear cushions. The first set is made of a leatherette, that allows passive noise reduction. The second set is made of cloth, for better long-term comfort and ventilation. SteelSeries also included their retractable mic, which prevents you from snapping it off in transit, or having an awkward boom next to your face when you don't need it.
Also considering long-term durability, the 7H features a nylon braided cord, and a detachable microUSB juncture on the headphones. That way, you wont tear your cord, or rip it from your headset when you do your victory dance.
The 7H is compatible with your
iOS device
, as well as your desktop and console (one headset to rule them all?). It isn't yet available, but it is expected to cost around €99.99 (US$139.84).
source:
HEXUStv (YouTube)
via
ipodnn