Apple is set to produce stereo Bluetooth headphones
1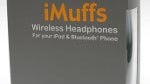 You may have noticed that a company called Wi-Gear produced A2DP stereo headphones dubbed "iMuffs" that were specifically designed to be used with Apple's devices. However, the production of the iMuffs headphones has absolutely no connection whatsoever with Apple and they were just a second-party accessory product. Until the moment that Wi-Gear officially closed its operations, after which it became clear that the company was bought by Apple two months ago for an undisclosed sum.
Now that Wi-Gear is part of Apple, it's set to be integral in the Cupertino-based company's plans to build its own stereo Bluetooth headphones. That's obviously important for Apple as it's likely that stereo Bluetooth headphones will enhance the company's appeal.
This information is only confirmed by the fact that Michael Kim, co-founder of Wi-Gear, is now working as iOS Bluetooth engineer. There is no indication when we will see Apple's stereo Bluetooth headphones, but it certainly sounds like a great idea and we hope we will be able to test one of these soon.
source:
9to5 Mac
Invalid image meta