Starting today, Verizon subscribers can sign up to insure their current handsets
2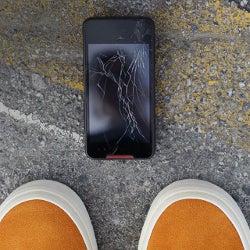 Everyone at one time or another has dropped their handset causing serious damage to their phone. Yet, when we buy a new handset and the rep asks us if we are purchasing insurance, the answer is inevitably "no." We start thinking that insurance is a rip off, and after all, there is the deductible that needs to be covered. But Verizon's insurance package might change the way you look at phone insurance.
Starting today, for a limited time only, Verizon subscribers are getting another chance to insure their current handsets with
Total Mobile Protection
. You have until July 14th to enroll. This service offers you same day repairs in many cases, allowing you to have your phone back in your hands quickly. And with certified technicians available in 115 markets across the country, you can have a cracked screen repaired almost everywhere, even at home. Check out these features:
Lowest monthly price for leading smartphone models – $11 per month.
Fast replacement with a longer claim cutoff – file a claim as late as midnight Eastern and get your replacement device the next day - including Saturdays.
The most cracked screen repair options – 270+ carry-in locations, plus 115 markets with mobile repair technicians that come to you.
File up to 3 insurance claims per 12 months per protected line – no one offers more.
New, lower $49 deductible for cracked screen repair.
Flexibility to cover up to 10 lines on your account – and save money – with TMP Multi-Device.
Unlimited access to Verizon Tech Coach experts to solve everyday issues.
The cracked screen repairs can be offered for the Apple iPhone SE, Apple iPhone 5c, Apple iPhone 5s, Apple iPhone 6, Apple iPhone 6 Plus, Apple iPhone 6s, Apple iPhone 6s Plus and Apple iPhone 7. Other eligible models include the Samsung Galaxy S5, Samsung Galaxy S6, Samsung Galaxy S7 and the Samsung Galaxy S7 edge. Also covered for shattered screen repairs are the Samsung Galaxy Note 4 and Samsung Galaxy Note 5. And lastly, owners of the Motorola DROID Turbo and Motorola DROID Maxx are also protected from a cracked display.
If your cracked screen cannot be repaired, Verizon will send you a new or "like-new" replacement the very next day, in most cases. And once you sign up for Total Mobile Protection, you will receive a free mophie Power BOOST mini power bank.

To enroll in Total Mobile Protection, simply click on the sourcelink.
source: Verizon