Sprint's landing page places attention on the HTC EVO 3D, View 4G, and more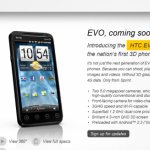 The cat has been long out of the bag for some time, especially when the majority of Sprint's upcoming devices were unveiled during CTIA 2011, but now they're all being corralled together on Sprint's special landing page.
Placed together on their "
All. Together. Now
" page, the HTC EVO 3D, EVO View 4G, Kyocera Echo, and Google Nexus S 4G are now being showcased for anyone to see. Specifically, you can read up on all of their specs and special features, and even more, they've got
360 degree models
to give you a meticulous look at the devices from all angles. From the looks of it all, these four devices are going to be the ones to drive Sprint's business for the good majority of the year.
So if you really want to get up close and personal with any of these device, you'd better point your web browser to the web site to experience them for yourself. In any event, which device are you looking forward to the most?
source:
Sprint
via
Android Central