Sprint expected to offer plenty of accessories for the HTC EVO 4G
This article contains unofficial information.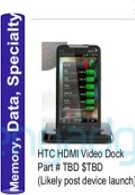 The vast amount of accessories are all too common among big phone launches – especially with a device like the HTC EVO 4G that screams plenty of attention from on-lookers. The business surrounding accessories will no doubt be booming with the arrival of this bad boy onto the scene, but there are just some that require more attention than others. Sure there will be plenty of cases, gels, and Bluetooth headsets that will accompany the HTC EVO 4G when it launches, but there are some seen on a recent Sprint "overview deck" slide that catches the eye more than others. Following the same trend we are seeing for these highly prized devices, the HTC EVO 4G is being treated to a dock with HDMI out, car mount, battery charger holster, and some custom designed replacement shells to liven up its looks. Although it's not known whether or not all of the accessories listed in the slide are going to be available at launch, it'll most likely be offered a bit later – let's hope it's not too late if they truly want to take advantage of the frenzied atmosphere surrounding the device. Outside the myriad of accessories, there was another slide that goes into detail about the various consumer segments that the HTC EVO 4G will attack – "Segment 1" being the primary one while "Segment 6" becoming more prevalent after the phone drops in price. With a hopeful price drop in time for the holidays, Sprint's focus for the device will be placed on the latter of the two when that time rolls around. On the other hand, if you plan on catching yours on day one of launch, then Sprint is classifying you as Segment 1.
HTC EVO 4G Specifications
|
Hands-on
via
Engadget