Sprint announces the Samsung M370 – simple and practical
2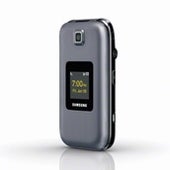 Here comes a new offering from Sprint that is built with practicality in mind – the
Samsung M370
. It is a budget-friendly clam-shell handset that is suitable for those that use their phone primarily for calling.
As you might expect, it doesn't come loaded with anything fancy. The Samsung M370 offers a humble, 2.4-inch QVGA display, an external screen for notifications, and a basic, 1.3-megapixel camera. It weighs 3.7 ounces, and its 1000mAh battery should provide up to 5.4 hours of talk time. You also get a built-in speakerphone, Bluetooth connectivity, and a wired headset can be hooked up to it via the 3.5-millimeter jack. As far as color availability are concerned, you can have it in any color, as long as it is "Pewter Gray".
The Samsung M370 will be available in Sprint retail stores starting January 8 and will cost $20, should you agree to sign a 2-year contract with the carrier. Subscribers are free to choose any of Sprint's current plans.