Sprint Samsung Galaxy Nexus hands-on
3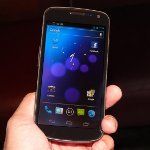 Yesterday, the
Samsung Galaxy Nexus for Sprint
became
official
, giving customers one juicy handset to consider picking up in the very near future. At an event away from the busy atmosphere of the CES floor, which was helmed by none other than Sprint, we managed to scope the upcoming Ice Cream Sandwich powered device.
Taking into account that this is going to be running off Sprint's
4G LTE network
, it's nearly an exact model to what we've seen with Verizon's version already – so there are no surprises with that. Strangely, we were barred from taking photos of the back of the handset, since it seems they haven't finalized what brandings they will be placing on the device. Though, we'd suspect that a snazzy Sprint logo and name would more than likely make an appearance. Yes, it's still constructed out of
plastic
, which isn't a surprise since this is a Samsung made device we're talking about.
As usual, the star of the show with this one is
Android 4.0 Ice Cream Sandwich
, which still deserves some distinction seeing that we're not seeing a whole lot of new devices running the most up-to-date Android experience. From our quick look at the device, it performs at a pretty fast rate with most operations, thanks primarily to its dual-core processor under the hood – albeit, it's still anyone's guess if it's
packing an upgraded 1.5GHz dual-core CPU
. Meanwhile, its gorgeous looking
4.65" HD Super AMOLED display
continues to impress us thanks to the vibrant colors it's able to produce and detailed clarity.
Finally, the last piece to the puzzle with this one is
4G LTE connectivity
, which should get many people excited with its potential. However, it's worth noting that the unit we checked out wasn't connected to the network – so we're still dying to know how good it's going to be. We've reviewed
Verizon's version of the handset
, as well as the
original GSM version
, so you can read our reviews about them to see what this device is all about.