Sprint 4G film competition offers scholarships to budding filmmakers
1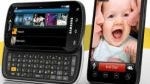 Sprint
is hosting the 'Competitive Edge Filmmakers Challenge,' in which participants will create their own short films with a Sprint smartphone, centered around the way 4G service gives them a "competitive edge" in their daily lives. The winners will receive a trip to
LA
, where they will spend a day on a movie set, lunch with Sprint execs, and get $2,500 toward their film careers.
"Sprint 4G really gives filmmakers an artistic edge since the technology is fast and makes it easy to shoot videos on your mobile device, stream the footage and upload it to your computer," said Sprint 4G president Matt Carter. In addition to being a competition, the challenge will offer instructions and tips on their website,
4GCompetitiveEdge.com
.
To qualify for the competition, participants must be enrolled at a 2 or 4-year university during the current school year, and the film must be between 2 and 5 minutes long. Don't worry, even though it's a Sprint 4G contest, you can make your film on any device. Considering the film will be about Sprint 4G, you might still need access to a
4G device
.
The Challenge is a collaboration between Sprint and the Thurgood Marshall College Fund. Together they will conduct a national university tour, showcasing their 4G service, screening a new feature film, and hosting a panel of film industry speakers.
We suggest you make a film bashing the
4G service
of other carriers, as that seems to be the general tone in the current "4G" media war.
source:
Sprint