Spotlight: 'Smart Screen On Off' for Android replaces your power key with motion and gesture controls
4

| | |
| --- | --- |
| Developer: Suriv | Download: Android |
| Category: Tools | Price: Free (with in-app purchases) |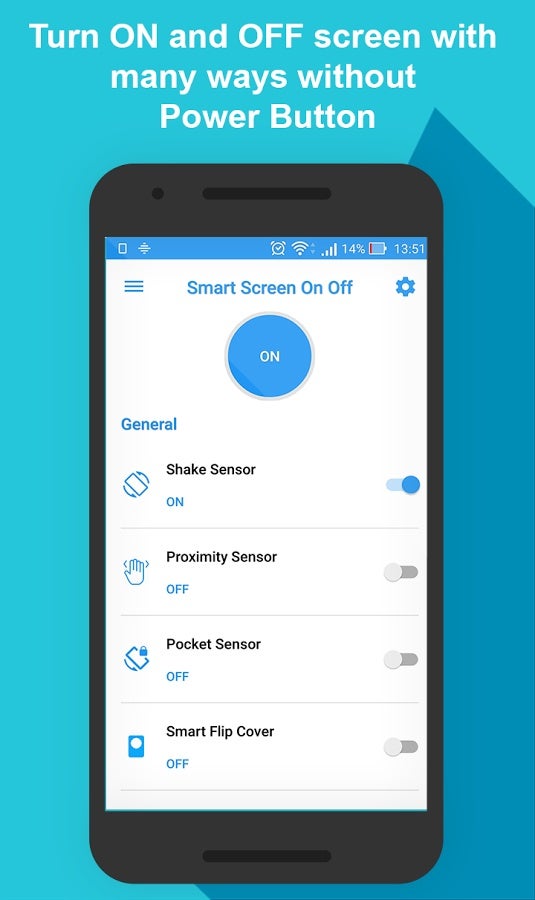 With the abundance of sensors inside modern day smartphones, reaching for that power key to turn the display on and off seems like such an outdated manoeuvre! Perhaps that's why Android developer 'devsuriv' put together an app like "Smart Screen On Off". The application takes advantage of your smartphone's shake, proximity, and pocket sensors to offer quick, gesture-based alternatives to the power key's primary task of turning your device's display on and off. The application does not require rooting and only asks for Device Administrator privileges so it can do its business.
The 'Shake Sensor' setting lets you do that by shaking the smartphone a set number of times — and said number can be different for both actions. The 'Proximity Sensor' setting lets you swipe said sensor (usually located close to the earpiece) a number of times to accomplish the same. And the 'Pocket Sensor' setting gets the smartphone to automatically turn its screen off when you put it on the table or inside the pocket, in addition to some other features we wouldn't really use on a daily basis. Anyway, we tried these core options on a test bunny Xperia Z3 and found them to respond quickly and adequately. We really have no complaints about awkwardness-inducing under or over sensitivity.
Moving on to the 'Advanced' functionality, we have the self-explanatory 'Double Tap Screen Off' and 'Double Tap on Status Bar' functions, along with the option to set a timer for turning the screen on and off. We're especially fond of double-tapping the status bar, as we deem it a near perfect root-less alternative to the convenient" Double Tap To Wake/Sleep" feature we love from LG phones.
Scrolling further down, we get the opportunity to select between different Screen Off animations and sound effects — useful if you are into this sort of personalization. And finally, we have the 'Other Settings' menu, where one can enable the app's gesture functionality only for the Home Screen and/or non-full screen apps, use the 'Turbo Wakelock' mode in case of turn screen on troubles, and tweak a few other minor things.
With regards to pricing, Smart Screen On Off is a free (ad-supported) app that offers in-app purchases. Purchasing the Pro version upgrade unlocks the app's full functionality, removes the advertisements, and supports the developer, of course. As for criticism, we felt that some of the more advanced features aren't properly explained, and being rather comprehensive in functionality, the app could benefit from a proper user manual.
As a whole, we like this app for what it is, and we commend the developer for offering its essential functionality at no cost, other than the presence of small banner advertisements.