Spotify for Android 4.0 ICS launches on Google Play
2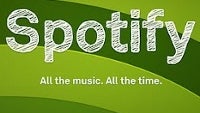 Today, after spending nearly two months in beta,
Spotify is finally launching its Android 4.0 Ice Cream Sandwich application
. The subscription-based music service brings contemporary Holo looks and interface as the main new features, but there's also heaps of new functionality. Some of the features are so far only on Android and even the iOS version of the ap doesn't have them and one such example is support for play queue. You also get a home screen widget and Last.fm scrobbling, along with an overall snappier experience.
When it comes to the looks, they are polished, you have a new slide-out navigation that matches the design ideas in ICS and you also see everything clearer as the app now knows to pull high-res images.
If you have a solid Internet connection you can also choose to listen to 320Kpbs high-quality music. Here's a list of the new features:
- Instant access to over 15 million tracks
- Stream online
- Listen offline – no mobile connection needed
- Share music with your friends
- Star your favourite tracks
- Wirelessly sync your own MP3s to your Android device
- Create and sync playlists
- Send the tracks you listen to direct to Last.fm & Facebook
Also, check out our detailed comparison of music services, just below the slideshow here.