Spigen, Ossia show off phone case with a battery that charges wirelessly OTA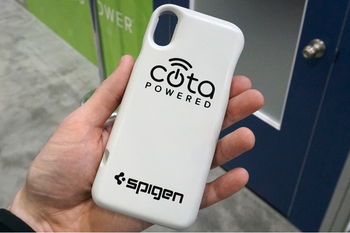 Imagine a world where the battery in your phone charges wirelessly via over the air signals. Back in 2017, we told you that
Disney was working on this technology
.
So is a company called Ossia.
The latter today announced
(via
Gizmodo
) that it is teaming up with smartphone case maker Spigen to produce a smartphone battery case that will work with Ossia's technology.
The Spigen Forever Sleeve case is a proof of concept and is on display at the Las Vegas Convention Center during CES. With Ossia's Cota wireless technology, once the battery inside a phone is dead, the one inside the case will take over the task of powering the device. This battery will charge without the use of any cords, pads or plugs even if it is meters away from the transmitter, and out of the line-of-sight. Even if the smartphone user is walking, as long as he is in the range of the 5.8GHz signals, the lithium ion battery inside the case will charge.
"Smartphone users worldwide dread seeing that red battery icon and alert that their power is running low. We are excited about working with Ossia toward make 'battery anxiety' a thing of the past by integrating Cota into our smartphone cases. This unprecedented innovation will allow users to continuously charge devices without physical contact with a power source. After evaluating several wireless power providers, we found Ossia to be best-in-class and the only technology provider able to meet the demands of a real wireless power experience."-DaeYoung Kim, Chief Executive Officer, Spigen
Both companies hope to bring the case to market by next year.