SoundHound's 'Add to Spotify' button creates playlists from songs you have identified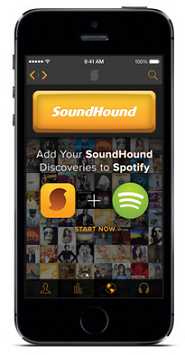 Create a Spotify playlist with the iOS version of SoundHound
SoundHound has introduced a new "Add to Spotify" button on its iOS app that allows users to create a playlist from songs they have identified using the app. Those already using SoundHound can link their account with Spotify from the app's settings, while new users can link the two accounts at the time of registration.
Previously, songs identified on SoundHound could be played on Spotify, but now a playlist can be created for Spotify while still inside SoundHound. Songs can be automatically added to a Spotify playlist, or added when the "Add to Spotify" button is pressed. Users can listen to the full track, add it to other playlists or share it with other Spotify users via a social network. Those SoundHound users without a free or premium Spotify account will be prompted to open one.
As for SoundHound users with Android, Windows Phone or BlackBerry 10, there is no word on when this feature will be made available to those platforms.
source:
SoundHound
via
TheVerge
,
Engadget