Sony Xperia ion for AT&T LTE coming with 12MP camera and HD display, and it is just Sony
12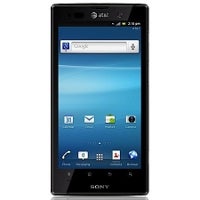 Sony Xperia ion
,
you read that right, is the first phone that is just Sony (no Ericsson here), which was expected after Sony bought the Ericsson share out of the joint venture. It is landing exclusively on
AT&T's LTE network
, just to spice things up.
It is the first dual-core Xperia phone; it features 4.6" HD display, 1.5GHz dual-core Snapdragon, 16GB of internal memory, plus a
whopping 12MP camera
with Exmor R sensor.
under two seconds
to get the camera from standby mode to image capture, so speed will be on our side with the humongous 12MP sensor as well.
Availability of the Sony Xperia ion is scheduled for Q2, and the phone is initially going to come with Gingerbread, although the Android 4.0 update shouldn't be that far away afterwards.
The company touts that the phone is
PlayStation Certified
, and will allow "
effortless sharing of content with easy connectivity across multiple screens within the world of Sony
", so the
"four-screen" dream of the CEO
Sir Howard Stinger is finally coming to fruition with the Xperia ion.