Sony's "four-screen" platform 5 years in the making, ready to battle Apple with smartphones and tablets in the mix
11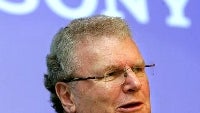 Sony CEO Howard Stringer revealed that the company is ready to launch its four-screens strategy, which has been ironed out over the course of five years. Smartphones, tablets, PCs and TVs will combine forces to take on Apple's yet-elusive take on TVs, for example.
Mr Stringer said that everybody is losing money on TVs, and the whole paradigm needed to be reworked for today's realities. He acknowledged that Apple will be a formidable competitor if and when it launches its rumored TV set(s), because the iPhone is "
really well organized"
, and he apparently expects that to translate to the TV experience from Cupertino as well.
He noted that he "
wouldn't underestimate Apple's ability to come up with a novel concept
", but Sony has spent the last five years trying to concoct a viable platform for smart TVs, and it has not been an easy task. I "
spent the last five years building a platform so I can compete against Steve Jobs
", he mentioned.
As part of the efforts on the way to its new "four-screen" platform, Sony is buying out Ericsson's stake from the Sony Ericsson venture, so it can have freedom in creating the uniform and coherent experience across its smartphone, tablet, PC and TV range. The platform, according to Sir Howard Stringer, is ready and is launching now. We wouldn't underestimate Sony's potential to create beautiful and innovative gadgets, so we are curiously awaiting details on this four-screen platform.
Regarding questions about financials, Mr Stringer said that Sony lost $3 billion this year because of natural disasters like the Japanese tsunami and the current floods in Thailand, plus man-made disasters like hacking of its PlayStation network or a rising yen, and had it not been for that, it would have been profitable.