Sony Xperia ZL comes to Canada in April
4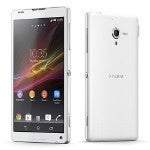 Sony Xperia ZL
will be coming to Canada in April. With mostly the same outstanding specs as the
Sony Xperia Z
, but minus the waterproofing and dustproofing, the Sony Xperia ZL is slightly shorter than its more talked about sibling. As is the case with the new-gen high-end phones, the device has a 5 inch screen with FHD resolution which works out to a 441ppi
pixel
density. In fact, the Sony Xperia ZL has the highest screen to phone size ratio. Where most models have a screen to phone size ratio of between 60% and 68%, the Sony Xperia ZL
has a ratio of 75%
. And the screen is powered by the BRAVIA engine 2 which makes it a display that you need to see to appreciate.
You wouldn't expect a phone like this to be underpowered-and it's not. A quad-core 1.5GHz Qualcomm Snapdragon S4 Pro APQ8064 processor is driving Miss Daisy and the Adreno 320 GPU crunches graphics like there's no tomorrow. The now
customary 2GB of RAM
multitasks till the cows come home, and don't forget the 13MP and 2MP rear and front facing cameras respectively. Unlike the Sony Xperia Z's 2330mAh battery, the 2370mAh battery on the Sony Xperia ZL is non-removable. Android 4.1 comes installed on the device which Sony says will be updated to Android
4.2
soon after launch.
The Canadian carriers named by Sony to be receiving the device are Bell, Mobilicity, MTS, Rogers, Videotron and WIND Mobile. If you are interested in the phone, keep an eye out for when pre-orders will be accepted.
source: Sony via
Engagdets
TORONTO, Feb. 14, 2013 /CNW/ - Sony Mobile Communications AB ("Sony Mobile") today announced that the Xperia™ ZL will launch in Canada with multiple carriers including Bell, Mobilicity, MTS, Rogers, Videotron and WIND Mobile, beginning in April 2013.

First introduced at CES 2013, the Xperia ZL packs the best of the Sony experience and features in a premium smartphone. It combines a razor sharp 5" full HD 1080p Reality Display with an elegant and compact design. Intelligent camera features make taking high quality images easier than ever, and One-touch NFC functionality connects the Xperia ZL to a wide range of accessories with a simple tap.

"With the highest screen to phone size ratio available today, the Xperia ZL represents over half of a century worth of Sony innovation in TV, imaging, music, film, gaming and design." said Peter Farmer, Vice President of Marketing North America, Sony Mobile Communications. "Loaded with Sony's One-touch functions and media applications, the Xperia ZL will provide an unparalleled entertainment experience whether on-the-go or as a central device within the home."

New Stand-out design

With subtly rounded edges and a curvature that fits naturally in the palm of your hand, Xperia ZL introduces a new OmniBalance design focused on creating balance and symmetry in all directions.

The power button, a signature design piece that gets its importance from the fact that the average user is likely to touch it an estimate of 76 times a day, exemplifies the premium build and craftsmanship that has gone into the Xperia ZL.

Intelligent Sony Technology

Xperia ZL's Reality Display, powered by Mobile BRAVIA® Engine 2, brings Sony's long-standing TV expertise to the smartphone and delivers an immersive viewing experience with super brightness and clarity. Most smartphones available today have screen ratios of between 60 and 68 per cent. Xperia ZL has been precision engineered for an exceptional viewing experience, allowing the brilliant display-representing 75 per cent of the overall footprinti-to take centre stage.

It also shares capabilities with Sony digital cameras and features Exmor RS for mobile, the world's first image sensor with HDR (High Dynamic Range) video for smartphones. HDR technology enhances clear images against strong backlight, so users can capture razor sharp pictures and videos no matter the conditions.

Sony's One-touch functions enable consumers to easily share music, photos and videos from their smartphone to an array of NFC-enabled Sony devices, including speakers, headphones and now TVs. With the latest BRAVIA TV, simply touch the Xperia ZL to the remote control of the TV to instantly enjoy your photos and videos on the big screen. Or, touch Xperia ZL to an NFC enabled headset or speaker and begin listening to tracks instantly.

Xperia ZL also includes Battery STAMINA Mode that can improve the standby time by four times or moreii by automatically shutting down battery-draining apps whenever the screen is off and starting them up again when the screen is back on.

Discover, enjoy and share entertainment with Sony's media applications

Sony media applications offer a consistent entertainment experience across a range of Sony devices. Pre-loaded on Xperia ZL, the "WALKMAN", Album and Movies apps, enable discovery of on-line and off-line content through a single access point with new ways to enjoy and share that content. The "WALKMAN" application provides access to all your downloaded music, a library of 18 million songs to explore from Music Unlimited and Facebook social integration. The Movies application gives consumers access to over 100,000 movies and TV series from Video Unlimited while the Album application enables easy access to Facebook friends' photos as well as browsing photos by location.iii

Key features for Xperia ZL

* Shatter-proof sheet on scratch-resistant glass design
* 1.5 GHz asynchronous quad-core Snapdragon S4 processor with 2GB RAM
* 5" 1080 x 1920p full HD Reality Display with Mobile BRAVIA® Engine 2
* 13MP Fast Capture camera with Exmor RS for mobile, HDR video (1080p), Superior Auto and Noise Reduction to effortlessly capture razor sharp pictures and videos in any conditions
* Battery STAMINA mode improves standby time by at least 4 times
* Available in Black
* Xperia ZL will launch on Android 4.1 (Jelly Bean)