Sony Xperia Z3+ was advertized during the crazy 2015 UEFA Super Cup match between Barcelona and Sevilla
5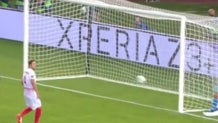 Back in May,
Sony announced
that, starting with the 2015 / 2016 UEFA Champions League season, it would be able to promote its Xperia brand on football stadiums across Europe, as part of a new deal with UEFA. While the new Champions League season has yet to properly start (play-offs have to be played first), Sony already had the opportunity to show off the Xperia logo during the 2015 UEFA Super Cup match.
Played yesterday, on August 11, the Super Cup match involved FC Barcelona (winners of the 2014-15 UEFA Champions League) and Sevilla FC (winners of the 2014-15 UEFA Europa League). While Messi and others were busy scoring goals (there have been no less than 9 of them, in a truly crazy game that ended 5-4 for Barcelona), pitchside billboards often displayed "Sony Xperia", and even "
Xperia Z3+
" ads. Thus, the Z3+ became the only smartphone promoted during the match.
With hundreds of millions of fans all over the world watching each UEFA Champions League season (either on TV, or on stadiums), Sony's partnership with UEFA might be extremely beneficial for the Xperia brand. Of course, it remains to be seen if all this will help when it comes to smartphone and tablet sales. What do you think?
via:
XperiaBlog