Sony Xperia Z3+ Review
89
You can now read: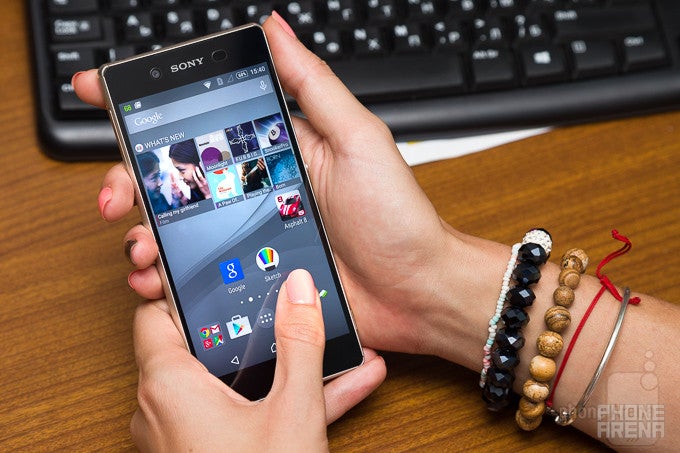 Introduction
We remember waiting for the Sony Xperia Z4 as the rumors about it kept piling up over each other. Yet, as the handset's surprisingly "soft" launch finally commenced, we came to understand that the Sony Xperia Z4 is actually more of a
Sony Xperia Z3+
, complete with the same branding for markets outside Japan. Thus, we couldn't help, but wonder – has Sony's strategy of upgrading its flagship smartphones twice a year, incorporating incremental improvements while overlooking opportunities for major changes, finally gotten the best of them? We won't spoil the provocative question by answering it just yet, but our review will give you the verdict, along with our quick opinion on whether it's worth upgrading from the
Xperia Z3
to the Z3+.
Package includes:


Xperia Z3+ smartphones
microUSB cable
Charging adapter
Earphones
User guides
Design
Wow, it's the best same-looking Sony Xperia Z handset ever!
Even if you've seen or held the Sony Xperia Z3 before it, it takes a cold and rational mind, one free of emotion's grip and governed entirely by the principles of logic, to not be impressed by the Sony Xperia Z3+'s look and feel. But what needs to be said has to be said - the Xperia Z3+ is virtually identical to its predecessor. It has the same metal and glass build, one of the best in class, but entirely predictable at this point. The omission of the magnetic charging port is welcome, however, for it was neither particularly useful, nor elegant-looking. On the Xperia Z3, the charging port was covered with a flap, while the one on the Z3+ is wide in the open, and still waterproof – an unquestionably better design. But the camera shutter button on the Z3 was slightly less wobbly and nicer to press.
Still, these are very minor gripes to have with a design as sleek and understated as Sony's. A more serious complaint would be the complete finger magnet of a glass used for the handset's front and back panel, and while we're at it, the volume buttons feel quite anemic, lacking width and travel. But on the side of good news, the Xperia Z3+ is 0.016 (0.4mm) thinner than its predecessor, coming in at just 0.27in (6.9mm) of thinness, and is also 0.28oz (8 grams) lighter, at 5.08 oz (144g). Overall, the handset measures 5.76 x 2.83 x 0.27 inches (146.3 x 71.9 x 6.9 mm), making for a rather big device.
Consider the repositioning of the microSD and SIM slot to the left, and this concludes the list of obvious differences between this and last year's model. There are more subtle, almost imperceptible nuances on the surface that make the Xperia Z3+'s build seem ever so slightly tighter – the frame is more flush with the body, the front-facing speakers now occupy the very ends of the top and bottom bezels, and the microphone has been moved to the frame's top side.
On the dual-SIM version of the device, the combined microSD and SIM card slot houses one microSD card and up to two nanoSIM cards simultaneously. Usually, dual-SIM handsets limit users to having either two SIM cards, or one SIM card and one microSD card at the same time, so Sony has to be commended for this bit of clever engineering.
Display
Bright and pleasant, but colors are still off the chart.
The Sony Xperia Z3+ doesn't offer anything new in the display department over its predecessor. Once again, there's a 5.2-inch 1080p resolution IPS LCD display with 441ppi pixel density for you to enjoy. It's a great display on many levels, especially considering its extraordinarily high maximum brightness. But, taking a look at our screen measurements reveals that Sony hasn't done much to resolve the all-too familiar flaws of high-end Xperia handsets' screens.
At 669 nits of maximum brightness and 4 nits of minimum brightness, the Xperia Z3 is reliable in both intense light and low light situations. However, the Xperia Z3 could reach from 4 nits all the way up to 713 nits, making for an even brighter outlook. Still, the Z3+'s display is brighter than those of the
Samsung Galaxy S6
,
LG G4
, and
HTC One M9
, but is weaker in other areas, such as color reproduction.
The Z3+'s display has an overwhelmingly cold color temperature of 9743 kelvins, which has, sadly, become typical for Sony's recent high-end smartphones. Far from the reference value of 6500K, where color balance tends to be much more... well, balanced, this results in a noticeable blue-ish tint. There are some other inaccuracies found, such as the generally oversaturated red and green shades, not to mention the yellow nuances drifting towards green, and purple colors inching towards blues. Not good!
Furthermore, the gamma log reveals that gray shades tend to appear darker than they really are, with those ranging from mid-bright to brightest, in particular, showing up as unnaturally dark. This makes for a rather un-dynamic image with poor contrast. Combined with the overly blueish color balance, the total gamma value of 2.64 results in shades of gray actually presenting themselves as a sort of a dark blue. Once again, not good, unless you really like blue-tinted images for some reason. Fans of the Smurfs will rejoice!
On the side of viewing angles, the Xperia Z3+ gives off significant deteriorations in maximum and minimum brightness levels, as well as contrast when viewed at a 45-degree angle. However, color error shifts are kept quite manageable. This behaviour is typical of IPS LCD displays and can be observed in other hi-end smartphones that use the technology, such as the LG G4.
On a side note, you can still enable the so-called X-Reality engine from the Settings menu for a punchier, larger than life image. Some of you may like that for watching photos and videos, as it makes things appear more vivid. Additionally, the touchscreen's sensitivity can be increased for operation with gloves on, which is great for winter season.
Overall, much of what was said and measured about the Sony Xperia Z3+'s display corresponds with that of its older sibling's. This is a great screen for outdoor and bedtime viewing, not so much for fans of color accuracy and dynamics.
Display measurements and quality
Recommended Stories