Sony Xperia Z2 size comparison: bigger than most in its class, smaller than a phablet
20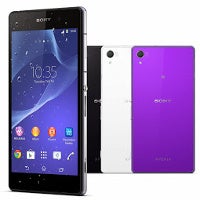 The
Sony Xperia Z2
is here and it looks pretty much like its predecessor, the Xperia Z1. What does this mean? Yes, it's stylish, and true, it's made out of glass, but it's also very large in size, nearly as big as a phablet.
To give you an exact idea of how big the Xperia Z2 is we compare it against some of the most popular devices out there - the Samsung Galaxy Note 3, Galaxy S4, Apple iPhone 5s and others.
The Xperia Z2 does have a larger, 5.2" display with a resolution of 1080 x 1920 pixels, just as large as the LG G2, and probably as most other top-shelf devices this year will have, but it's also larger than most of these phones.
It has its reasons - it's water-proof after all, and protected from the elements, and some may argue that it compensates with style. We leave it up to you to decide whether its size is an issue after you take a look at the image below.