Sony Xperia Z Ultra is the largest 'phone' ever: here is how it eclipses all others (size comparison)
87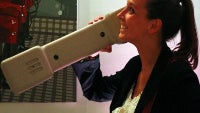 The
Sony Xperia Z Ultra
is real, it's official and... it's humongous. Sony calls its 6.44-inch creation a smartphone, most people would call it a phablet, and in reality it looks much more like a tablet than a phone. Heck, it even comes with a "handset" compact accessory to take calls!
It's hard to comprehend just how big a device with a 6.4-inch display really is. The
Samsung Galaxy Mega 6.3
seemed absurd when we first got it in our hands and as quick we humans are to adapt to novelty, it seemed just too large even after we spend some time with it. The size comparison below is eye-opening - you'd see that the Xperia Z Ultra is noticeably larger than even the Mega 6.3.
The Z Ultra has one key advantage, though. It's got a razor thin body measuring just 6.5mm thick. Could that balance its humongous size? Partly, yes, but for the rest we'll leave the images below speak for themselves.
Recommended Stories