Sony Xperia XZ2 and XZ2 Compact hit the store shelves in Europe
31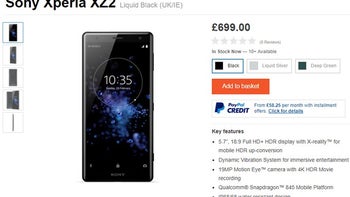 Both Sony's high-end smartphones, the
Xperia XZ2
and
XZ2 Compact
went on pre-order in Europe last month, and many retailers claimed they will arrive in stock in early April. Some even offered great deals on the
Xperia XZ2
where buyers would also get
a PlayStation 4 or PlayStation VR headset for free
.
In any case, if you haven't placed a pre-order due to various reasons, you might be pleased to know Sony has already starting to sell the Xperia
XZ2
and
XZ2 Compact
across Europe. In the UK, the former is available for purchase for £700, while the latter can be had for £530 outright.
It appears that the Deep Green version of the
Xperia XZ2
isn't available for purchase yet in the UK, but the Black and Liquid Silver models are listed with more than 10 units in stock.
The Xperia XZ2 and XZ2 Compact were
available for pre-order in the United States
through B&H, but the retailer doesn't have the phones listed on its online store any longer.