Sony Ericsson preparing two Android handsets?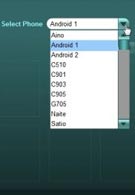 The first handset by
Sony Ericsson
running
Android
, the
XPERIA X3
is not officially announced yet, but the latest rumour speaks of more similar devices. The information comes from a forum called Esato and they have a section dedicated to concept models of the manufacturer, where users are allowed to share thoughts and and let their fancy roam. The creative section of the forum now features a picture of an online application store and the menu allows you to pick one of the two mysterious handsets called Android 1 and Android 2. Keeping in mind the image may prove to be fake, the snapshot means that Sony Ericsson might be working on another one or two Android-based cell phones to join the XPERIA X3. Certainly, it´s possible that one of these rolls out by the end of the year and before the XPERIA X3 that is
allegedly coming out
January 2010. Well, there are several more credible assumptions we can make, like these two may turn out to be new Cyber-shot or Walkman Series handsets running Android, but we would rather withhold comments.
Still, tell us what you think, make a guess about the would-be future smartphones of Sony Ericsson and sound off your opinion in the comments below.