Sony Ericsson Xperia X10 to get Android 2.1 upgrade starting today
14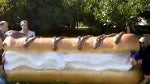 Sony Ericsson had, as we
reported
, announced in September that it was delaying the Android 2.1 upgrade for its Xperia X10 line to late October. Thanks to an upgrade starting today, the joint venture is keeping its word. After all, you can't get closer to late October than the last day of the month.
Still, we are happy to say that starting today, the joint venture will begin rolling out Android 2.1 to owners of the device. Also moving up from Android 1.6 will be the Xperia X10 Mini and the Xperia X10 Mini Pro. The rollout will begin in phases and last throughout the month of November, so if you do not receive the update immediately, don't jump. The clock starts Sunday night, Euopean time. Eclair should be able to be installed through an OTA download on most devices, but some might require the use of a PC and the PC Companion software.
The upgrade brings different things for different handsets. For example, the Sony Ericsson Xperia X10 will receive the ability to record 720p high definition video with Auto Focus, 5 homescreens for widgets, apps, folders and shortcuts, a new app that backs up and stores your data, and adds a social phonebook that syncs contact pictures from Facebook and lets you know when your friends are online.
For the Sony Ericsson Xperia X10 Mini and Mini Pro, the upgrade to Android 2.1 offers users improved Bluetooth functions including the ability to send or receive pictures, contacts and more. Like the Xperia X10, a new back up and restore application is part of the upgraded OS. Other new features will include automatic syncing of pictures between Facebook and your phone book, and an improved method for handling numbers, text and audio in your messages.
source:
SonyEricsson