Sony Ericsson LT22i Nypon to feature a dual-core NovaThor chipset and qHD display
5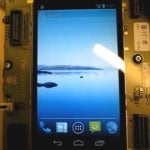 There is something brewing over at Sony Ericsson. After the company announced that it will buy Ericsson's part in the venture, now additional details have leaked for one more phone to the ones that
were unearthed the other day
, and the specs are quite different from what we are used to see in the Xperia line.
The UAProfile has the Sony Ericsson LT22i, which is codenamed Nypon, as having a qHD 540x960 pixels display, which will be a first for an Xperia Android phone from the company. Right off the bat this is placing it between the current WVGA and the upcoming HD screens from Sony Ericsson.
What piqued our interest most, though, is that the
Sony Ericsson LT22i Nypon
is rumored to come with an
ST-Ericsson NovaThor dual-core chipset
, instead of the Qualcomm Snapdragon line the company has been using so far for its Android lineup. STE is a joint-venture between STMicro and Ericsson, and is the other chipset manufacturer besides Qualcomm that does true SoCs, complete with the baseband radio.
Coincidentally the folks over at ST-Ericsson just outed a video that demonstrates how Android ICS runs on a 1GHz dual-core NovaThor platform with 512MB of RAM, streaming music via its HSPA modem. The video below is with the hardware acceleration disabled, so the end result should be more fluid.
We'd also imagine that the Sony Ericsson LT22i Nypon would come cheaper than the flagships like Nozomi, since it will sport a qHD instead of HD display, and ST-Ericsson could be clamoring to stick their foot in the chipset door with NovaThor, undercutting Qualcomm's silicon prices to get there.
via
XperiaBlog